If you follow my personal instagram or #adventuresofandyandeddie then you've seen these 5.5 year old goofs. They're my twin boys. I'd been looking forward to their preschool graduation for a year and sadly it couldn't happen the way we'd hoped. I still wanted that photo op like any mom would.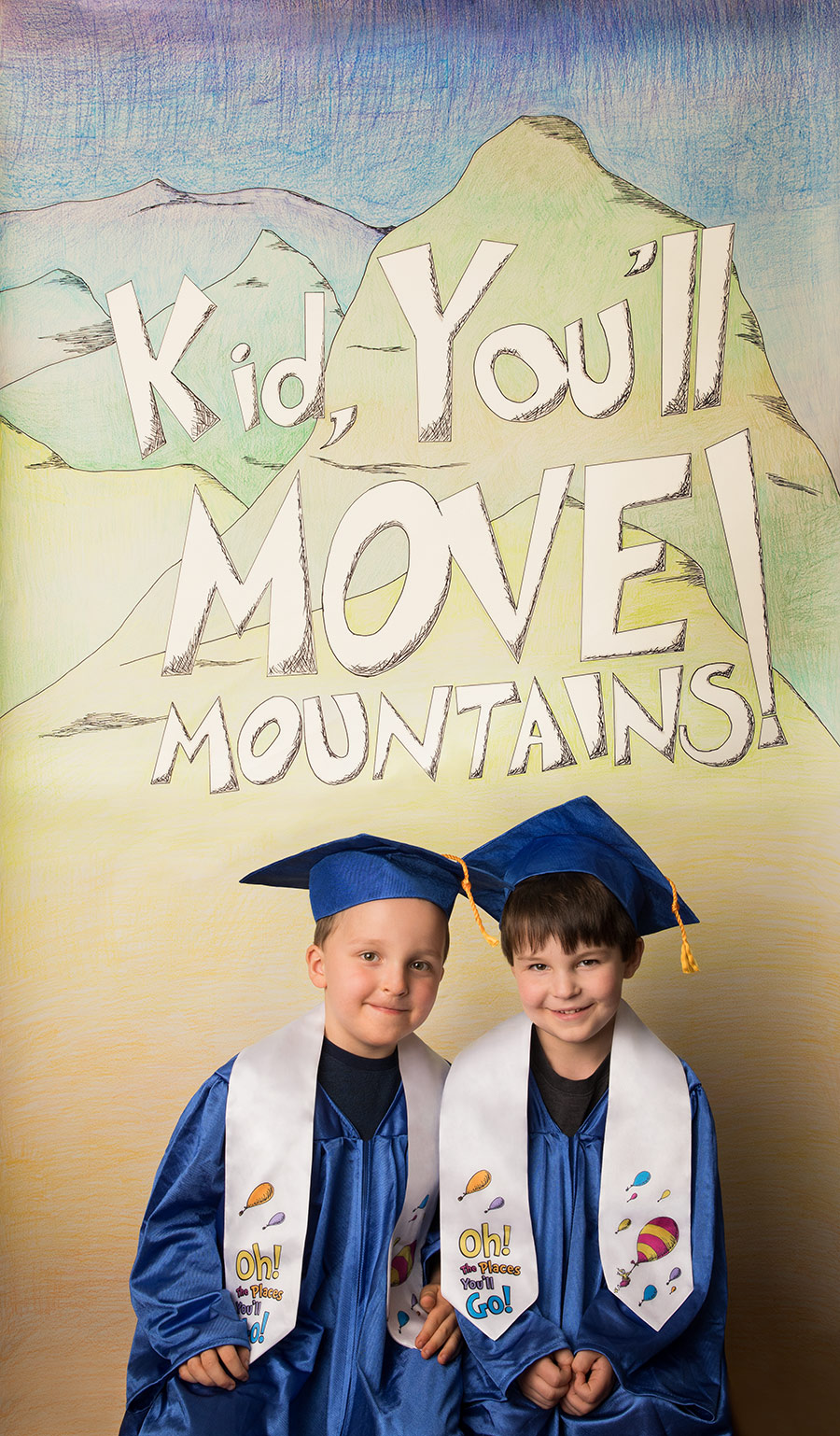 We combined our love of all things Dr. Seuss with a quote from "Oh The Places You'll Go", graduation caps, gowns and stoles from Oriental Trading and a hand drawn background by ME!
The white paper roll is the same I would use to photograph business headshots on, but also makes a great canvas for big coloring projects. I unrolled it, sketched a design, added the line "Kid, You'll Move Mountains!", added some marker, a rainbow of crayola crayons… hours later I was done.
Next step was adding in my boys Andy & Eddie. As I assembled the pieces I knew that part of the process would be leaving myself details that would need retouching. The creases in the paper. The stoles were creased out of the package and I left it as it was. I left the ketchup from lunch on Eddie's face. I let the strings hang from their caps. All of these things are common details that happen in real life, mine included. The promise of freeze pops went from one, to two, to three for their cooperation and with a couple clicks we were done with creating the "before" image.
Scroll to the bottom for some outtakes 🙂
What was retouched?
Adjust color and contrast of background to add saturation
Remove creases in paper at top and middle of background
Remove small blemishes in paper
Brighten the white lettering
Remove ottoman they are sitting on
Extend background paper at bottom
Straighten edges of graduation caps
Remove excess shine and reduce shadows on caps
Remove elastic string on caps
Remove creases on stoles
Remove zippers
Round out Andy's (R) shirt collar
Remove ketchup on Eddie's (L) chin and nose